Description
Pentominous is an object placement puzzle where pentominoes must be located within the grid.
Rules
The objective is to divide the grid in pentominos, subject to the following rules:
No two of the same pentominos, including rotations / reflections are allowed to touch.
Letters indicate which pentomino occupies that cell, pentominos may contain any number of letters (including zero).
Example
A standard 10x10 pentominous and its solution.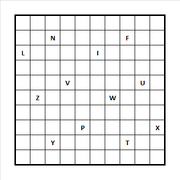 Variants
Unless otherwise indicated, standard pentominous rules apply to all variants.
Pearl Pentominous: Every pentomino must contain one pearl.