Description
Slitherlink is a loop-drawing logic puzzle where a single, non-intersecting loop is drawn.
Rules
The objective is to draw a single, non-intersecting loop, subject to the following rules:
Numbers in some squares how many of its four sides form part of the loop.
Example
A standard 10x10 slitherlink and its solution.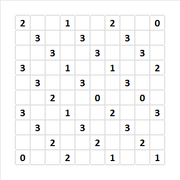 Variants
Unless otherwise indicated, standard slitherlink rules apply to all variants.
Sheep and wolves: Additionally the grid contains sheep which must be kept inside the loop, and wolves which must be kept outside the loop.
Borderlines: The grid is split into regions. The loop must run along the perimeters so that the loop either uses or leaves the same amount of line segments around each region as the size of the region itself.
Ad blocker interference detected!
Wikia is a free-to-use site that makes money from advertising. We have a modified experience for viewers using ad blockers

Wikia is not accessible if you've made further modifications. Remove the custom ad blocker rule(s) and the page will load as expected.